From Weddings to Corporate Events and other Special Occasions- our professional staff makes sure your event is "one of its kind". Count on Bhima Catering Service to ensure that your guests leave with a truly unforgettable experience.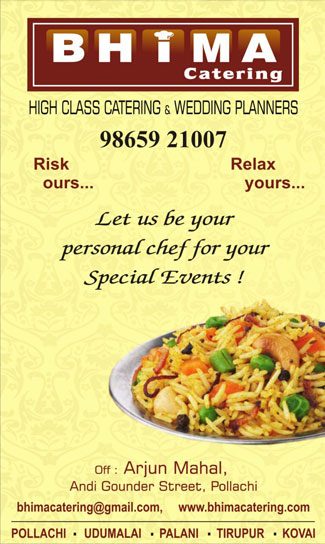 BHIMA CATERING Provides Catering Services in POLLACHI, India
for almost all functions and parties like

Weddings
Engagements
Receptions
Anniversaries
Birthday Party
Corporate Parties
Puberty Ceremony
Ear Boring Function
School Function
Collage Function
GetToGather
House Inauguration
Call +91 98659 21007
@Home Delivery

This is a typical segment in the Catering industry; you order the food and we provide it at your doorstep. The smaller house-hold functions can be catered with this kind of setup. You order for 150 or more numbers and you get your food delivered at your doorstep at your requested hour. This has proved very economic and handy for all kinds of occasions.